Quon Sang Lung Laundry Shop
The Quon Sang Lung Laundry in Fort Macleod, Alberta was built in 1907. It was one of three or four similarly constructed buildings in the area of 25th St. and 3rd Ave that comprised Fort Macleod's Chinatown. The link between businesses such as this to Chinese immigration, settlement and entrepreneurship in Alberta in the early twentieth century contributed to its value as a historic resource.
Region:
Southwest Alberta
Field Documentation:
November 11, 2017
Field Documentation Type:
Terrestrial LiDAR
---
---
Threat Level

Enduring Hardship: Chinese Laundry Shops in Western Canada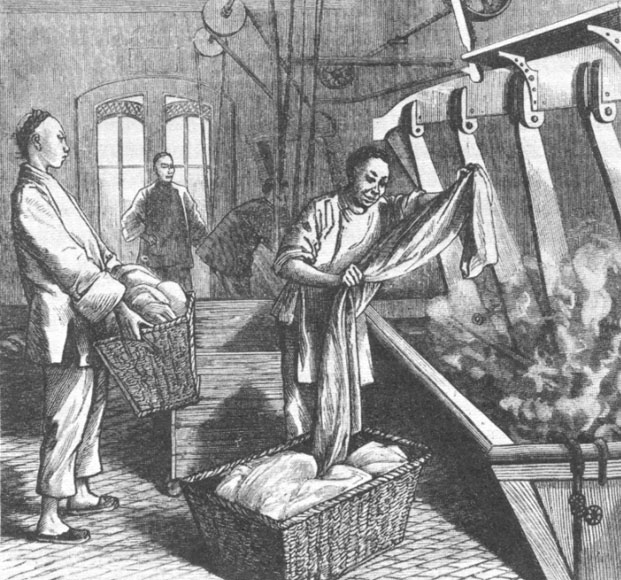 The last half of the nineteenth century saw a surge in Chinese immigrants coming to Canada. Increasing population and situations such as drought, floods and war led to famine, economic crisis and extreme poverty in China, particularly in southern areas. Many men left China at this time to seek a better life, and Canada offered unique opportunities for them. The Gold Rush in the interior of British Columbia, as well as construction of the Caribou Wagon Road in 1863-1864 attracted many Chinese immigrants who were seeking their fortune [2]. Additionally, the construction of the final leg of the CPR between 1881 and 1884 required large numbers of laborers. It is estimated that about 17,000 Chinese men came to Canada specifically to work on building the railroad [3]. For the companies overseeing these massive construction projects, it was easier to bring workers by boat from China than to bring Europeans or even people from eastern North America. The Chinese migrant workers faced dangerous working conditions and poor living conditions, while working for lower wages than white laborers doing the same jobs.
After the completion of the CPR in 1885, many of the Chinese laborers were in a desperate situation to be able to support themselves. Some were able to find wage labour in other industries, such as mines, sawmills or canneries, but they faced the same discrimination and inequality of wages as they had endured previously [2]. One way of earning a living was as a laundry man. It was hard work, with long hours and little pay, but it was a job that the Chinese men could do without a large overhead investment or being fluent in English. This often led to further discrimination, because washing laundry was viewed as "women's work".
Chinese laundries were at first concentrated in British Columbia, but by the early twentieth century many Chinese men moved east out of British Columbia and spread across the country. Chinese laundry shops were often under scrutiny by townsfolk because of suspicion that they were used as a cover for opium smoking or gambling dens. Although the laundries were not intended to be used as dwellings, many of the owners and employees lived in the buildings out of convenience and because they simply could not afford to pay rent or buy a home of their own [2].
 The Quon Sang Lung Laundry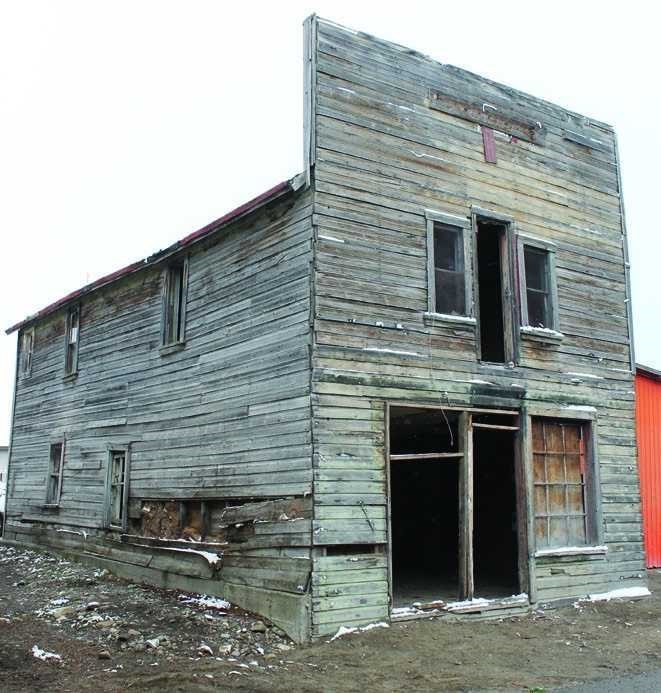 The Quon Sang Lung Laundry in Fort Macleod was built in 1907 and had significant heritage value because of its association with Chinese immigration and settlement in western Canada and the emergence of Chinese-owned businesses in early twentieth-century Alberta [1]. It was the oldest remaining Chinese Laundry in Alberta, and the last original building that had been part of Fort Macleod's Chinatown. The orientation of the structure, with the front façade facing into the alleyway, is a symbol of the discrimination faced by Chinese merchants in Fort Macleod in the early twentieth century. In 1905, the town passed a bylaw requiring that laundries on 24th Street pay a much higher license fee than those in other areas of the town [1]. By constructing the building to face the alley between 24th and 25th Streets, it might have been possible to avoid the inflated license fee.
Quon Sang Lung was a successful businessman who, along with his brother, owned several businesses in Fort Macleod from 1907 through 1919 [4]. The building went through many owners and housed many businesses in its hundred and ten year history. In addition to being a laundry, early on it contained a store selling herbs. The building was vacant through the 1930s until 1945 when it served as a garage for a short time. It was later purchased by another Chinese businessman, "Happy" Leong, who operated a laundry and boarding house. Evidence of interior walls that were added to the upper level to create boarding rooms was found when the structure was documented before its destruction. The building was owned by two other Chinese merchants in succession, York Chow and Lee Ping, before it was sold in 1968 to the owners of a local tire shop who used it mainly as a storage facility[5].
The structure deteriorated over the years, and in 2014 the owner applied to the town for a demolition permit. There was a call from some citizens of Fort Macleod to preserve the building or to move it to a museum or historical park, but that did not occur [6]. A condition assessment of the building indicated that it was unsafe and that the extent of the instability could lead to a sudden collapse. Because of the age of the building and the significance to the community, the Historic Resources Management Branch of Alberta Culture and Tourism was consulted to assess its historical value. Due to the significant historical value associated with the structure itself, as well as with Chinese immigration and settlement and Chinese-owned businesses in Alberta in the early 1900s, Alberta Culture and Tourism engaged the Departments of Anthropology and Archaeology and Geomatics Engineering from the University of Calgary to digitally preserve the laundry building before it was demolished in January 2017.
Notes:
This site is located on Treaty 7 Territory of Southern Alberta, which is the traditional and ancestral territory of the Blackfoot Confederacy: Kainai, Piikani and Siksika as well as the Tsuu T'ina Nation and Stoney Nakoda First Nation. This territory is home to the Métis Nation of Alberta, Region 3 within the historical Northwest Métis Homeland. We acknowledge the many First Nations, Métis and Inuit who have lived in and cared for these lands for generations. We are grateful for the traditional Knowledge Keepers and Elders who are still with us today and those who have gone before us. We make this acknowledgement as an act of reconciliation and gratitude to those whose territory we reside on or are visiting.
[1] Quon Sang Lung Laundry, Statement of Significance. Alberta Culture and Tourism, Historic Resources Management Branch (File: Des. 2334).
[2] Hoe, Ban Seng., 2003. Enduring Hardship: The Chinese Laundry in Canada. Canadian Museum of Civilization, Ottawa.
[3] Morrison, J. H., Bell, G., & Lee, A., 2013 Chinese Migration To The Maritimes: The Early Years, 1890-1947. Journal of the Royal Nova Scotia Historical Society, 16, 69.
[4] Dawson, P., Baradaran, F., Jahraus, A., Rubalcava, E., Farrokhi, A., & Robinson, C., 2017 Digital preservation of the Quon Sang Lung laundry building, Fort Macleod, Alberta. ISPRS Annals of the Photogrammetry, 53-58. doi:10.5194/isprs-annals-IV-2-W2-53-2017
[5] Fort Macleod Provincial Historic Area Society and Alberta Culture and Multicuturism n.d.. A Walking/Driving Tour of Fort Macleod's Historic Downtown and Residential Area. Canada. Retrieved from http://www.culturetourism.alberta.ca/heritage-and-museums/resources/historical-walking-and-driving-tours/docs/Tour-Fort-Macleod.pdf
[6] Mc Tighe, Frank, 2014 Fort Macleod's historic laundry building set for demolition. Fort MacLeod Gazette May 07: Fort Macleod. http://www.fortmacleodgazette.com/2014/fort-macleods-historic-laundry-building-set-for-demolition/
The map was sourced from the Library and Archives Canada, with the images of recording, reconstructions, and architectural drawings provided by the Capture2Preserv Team.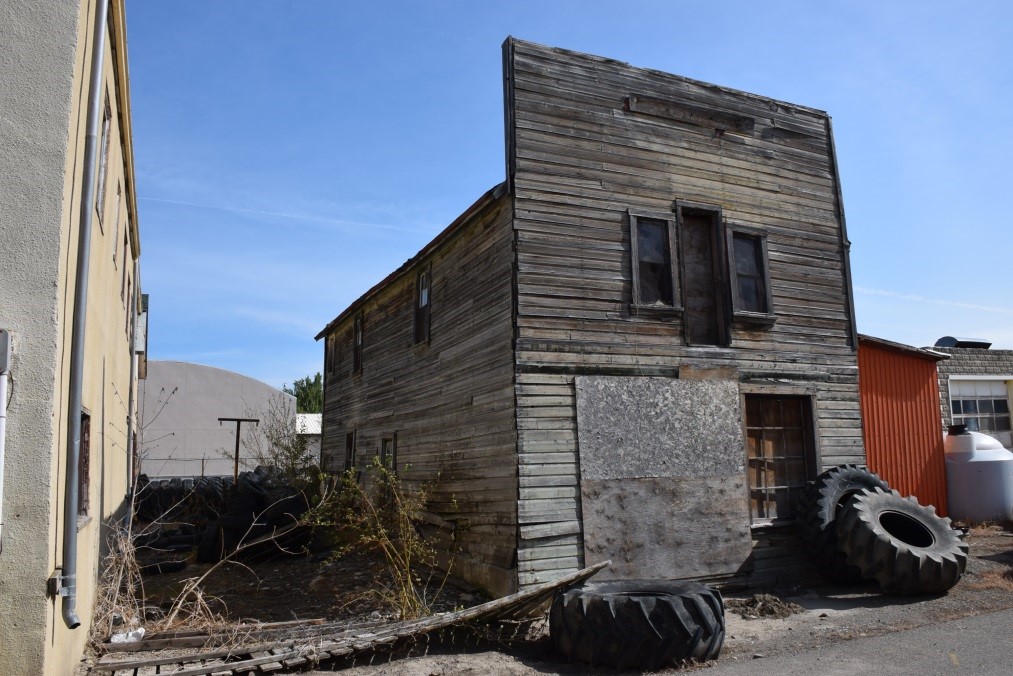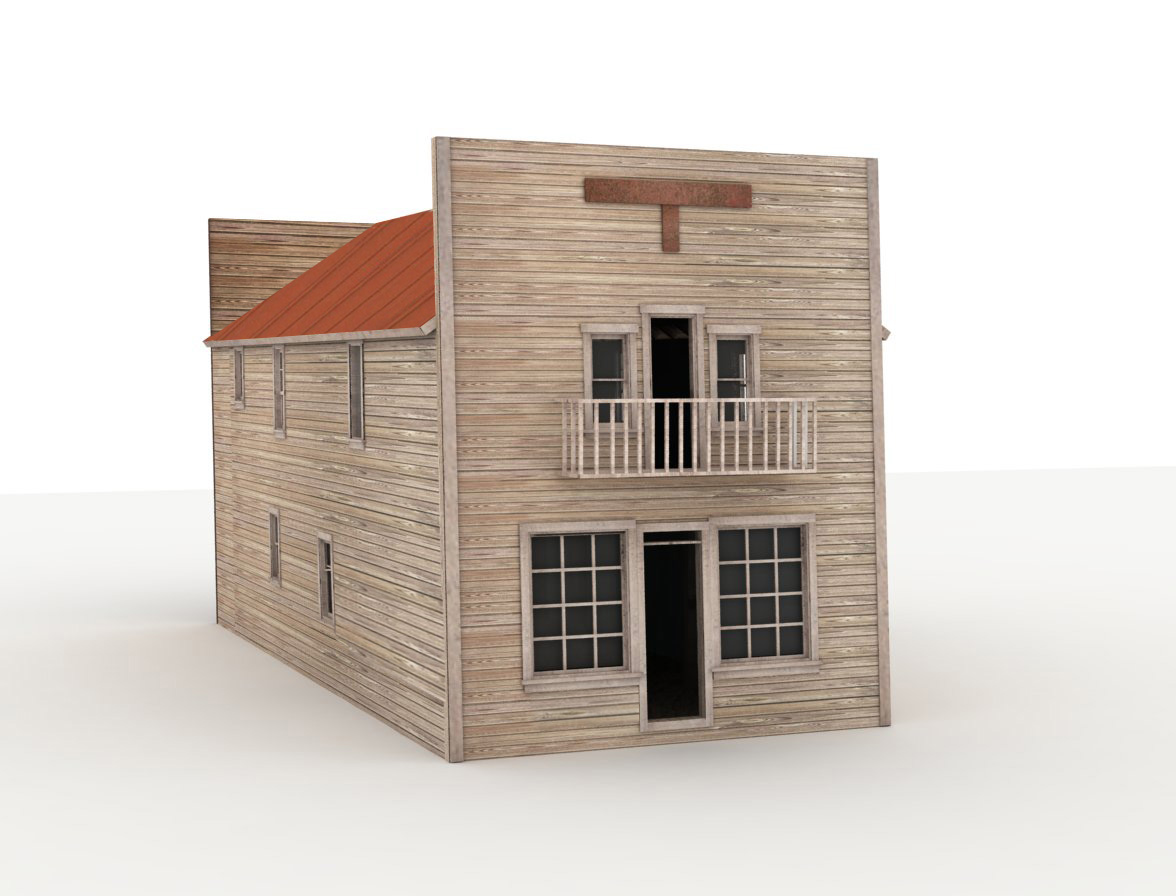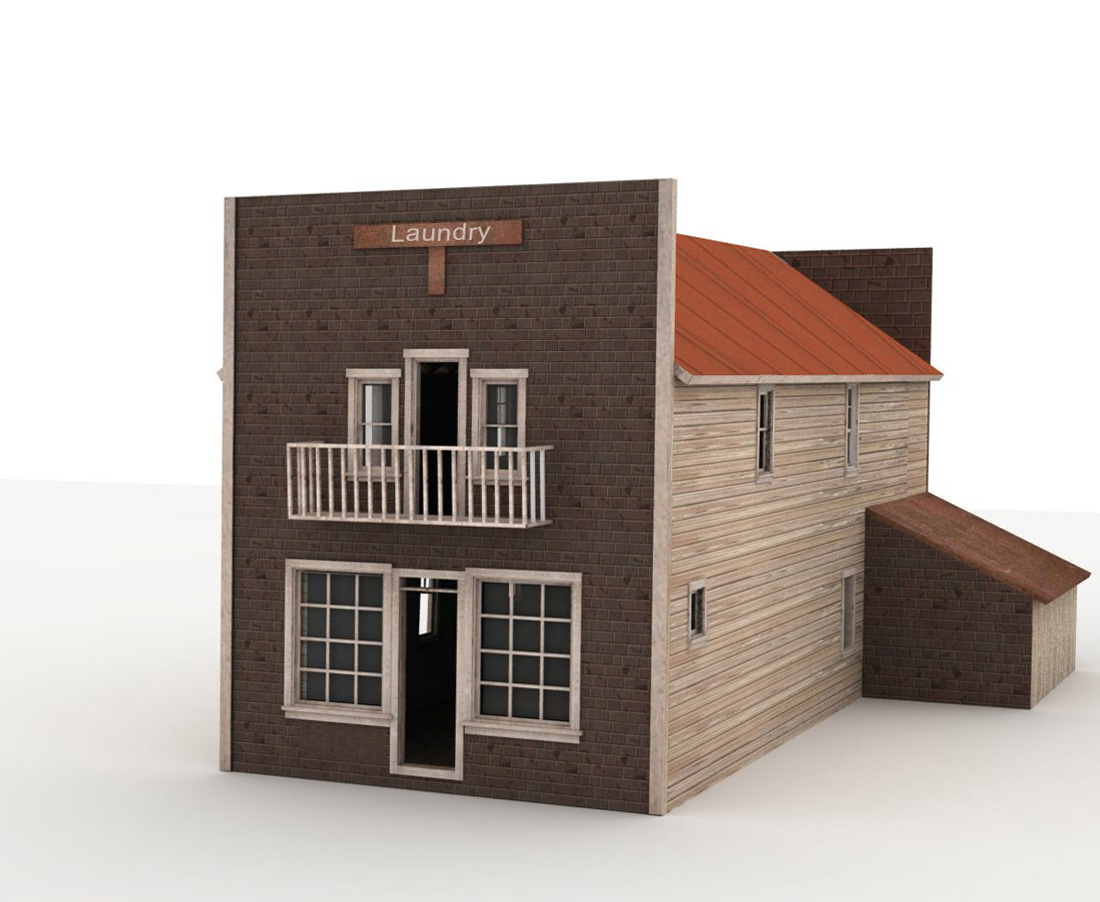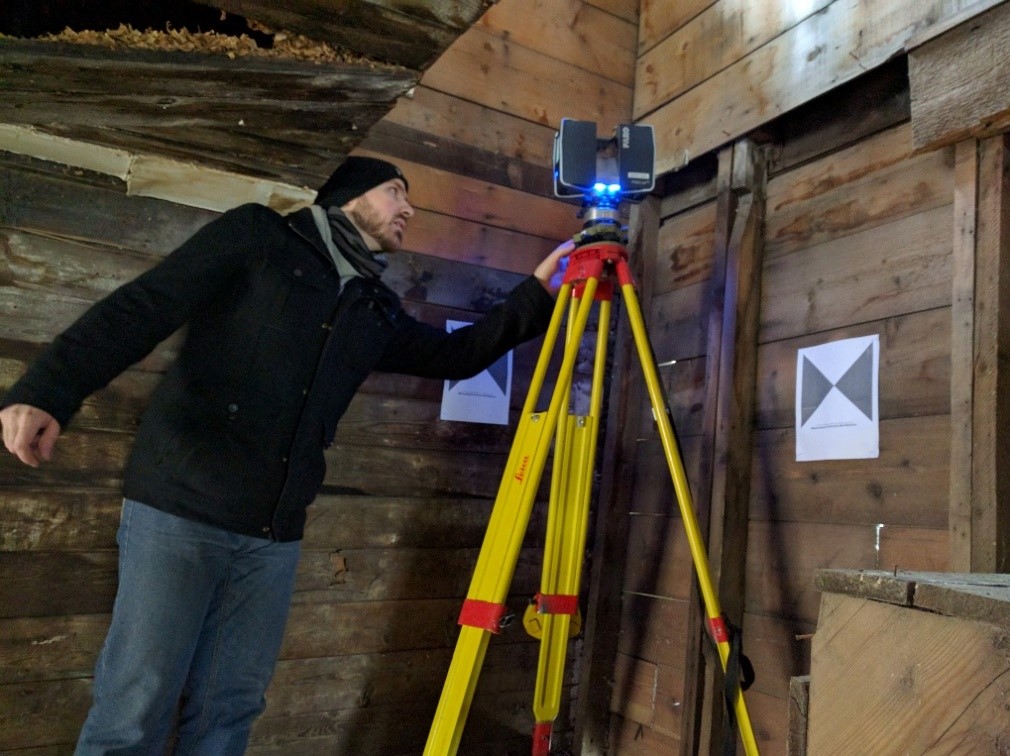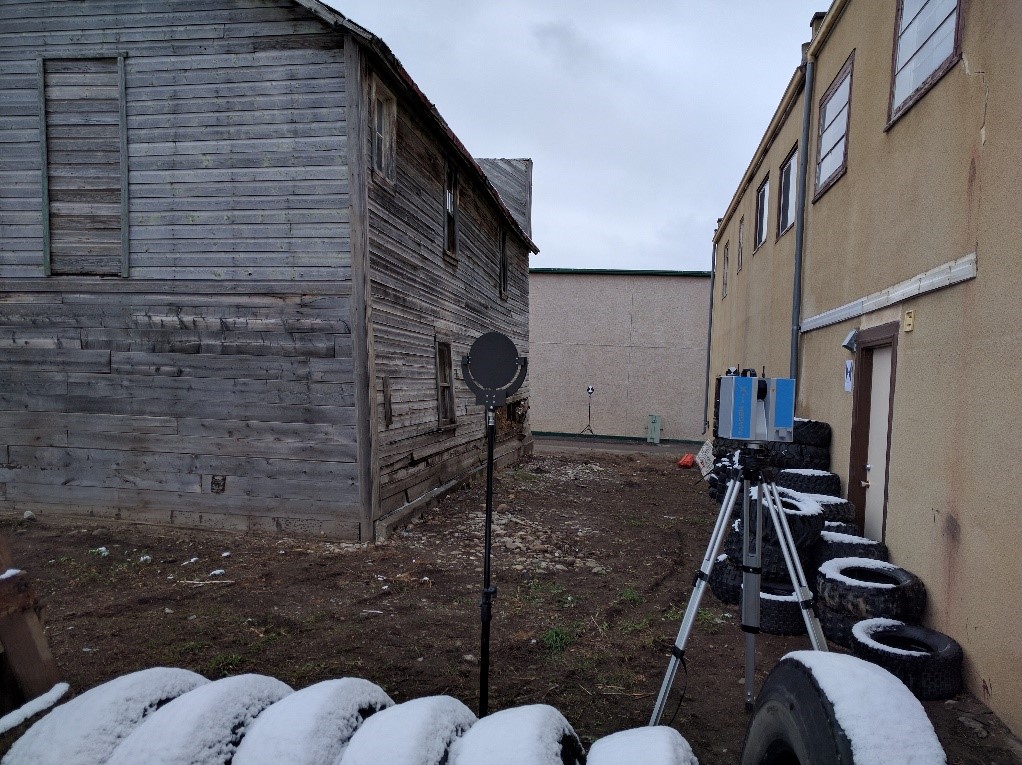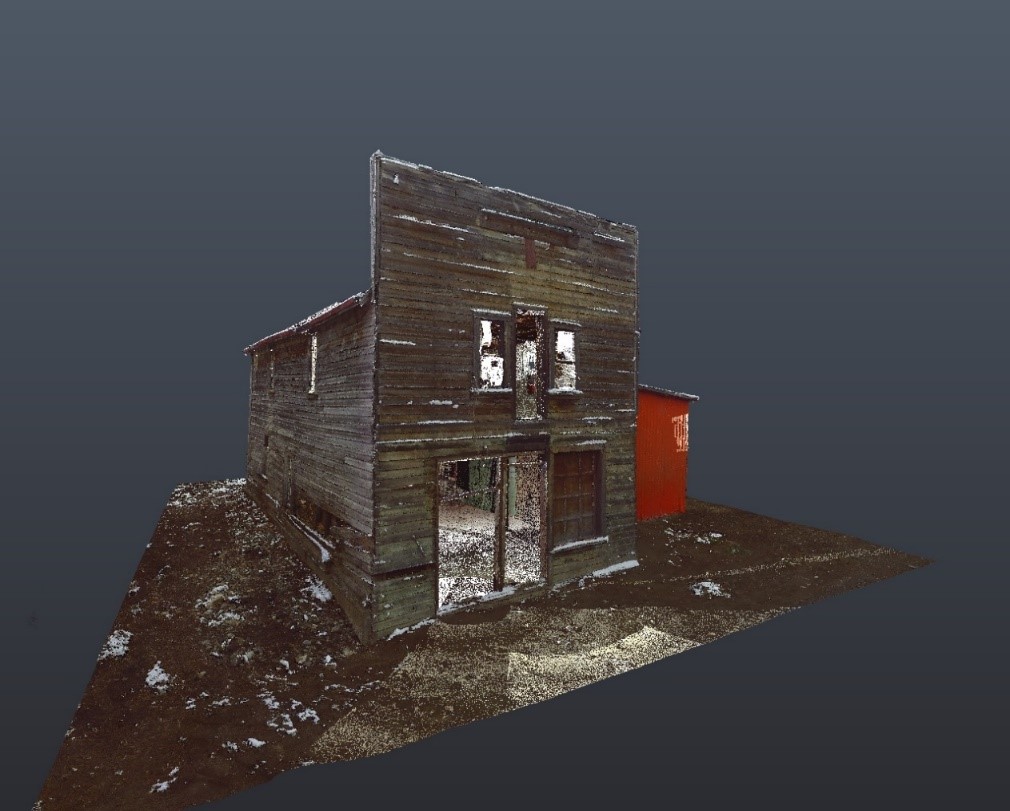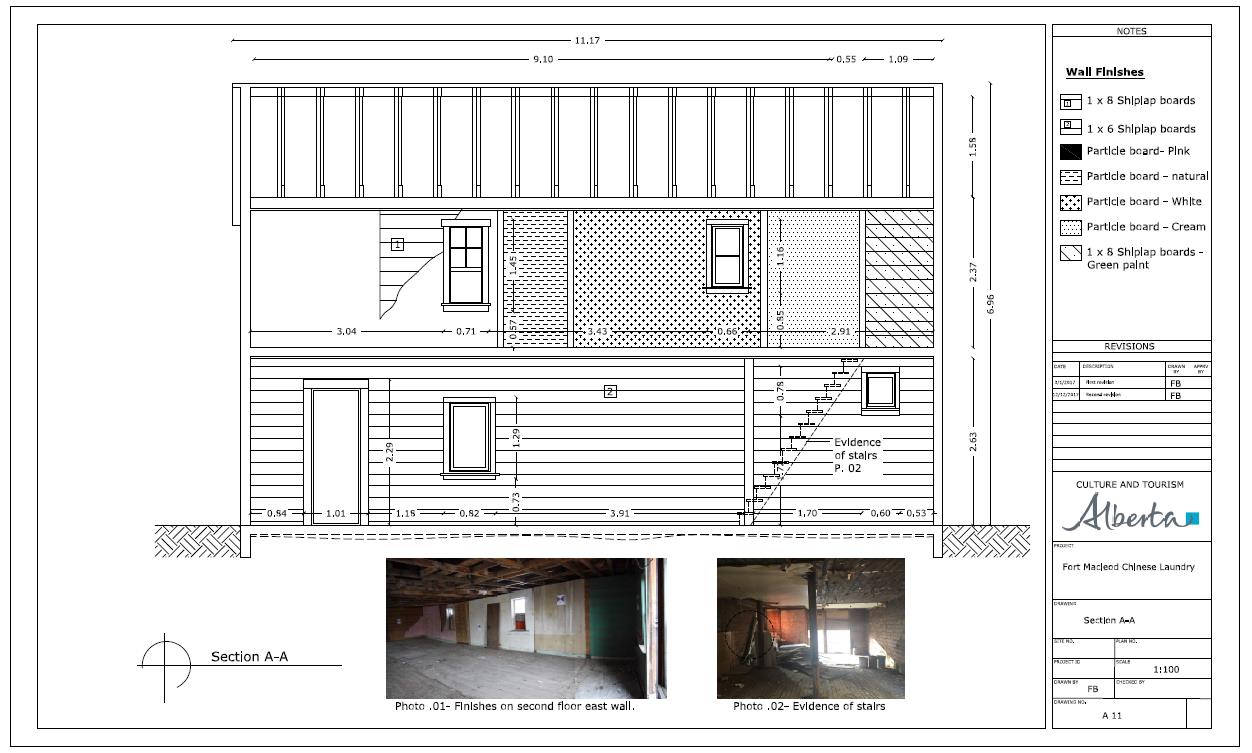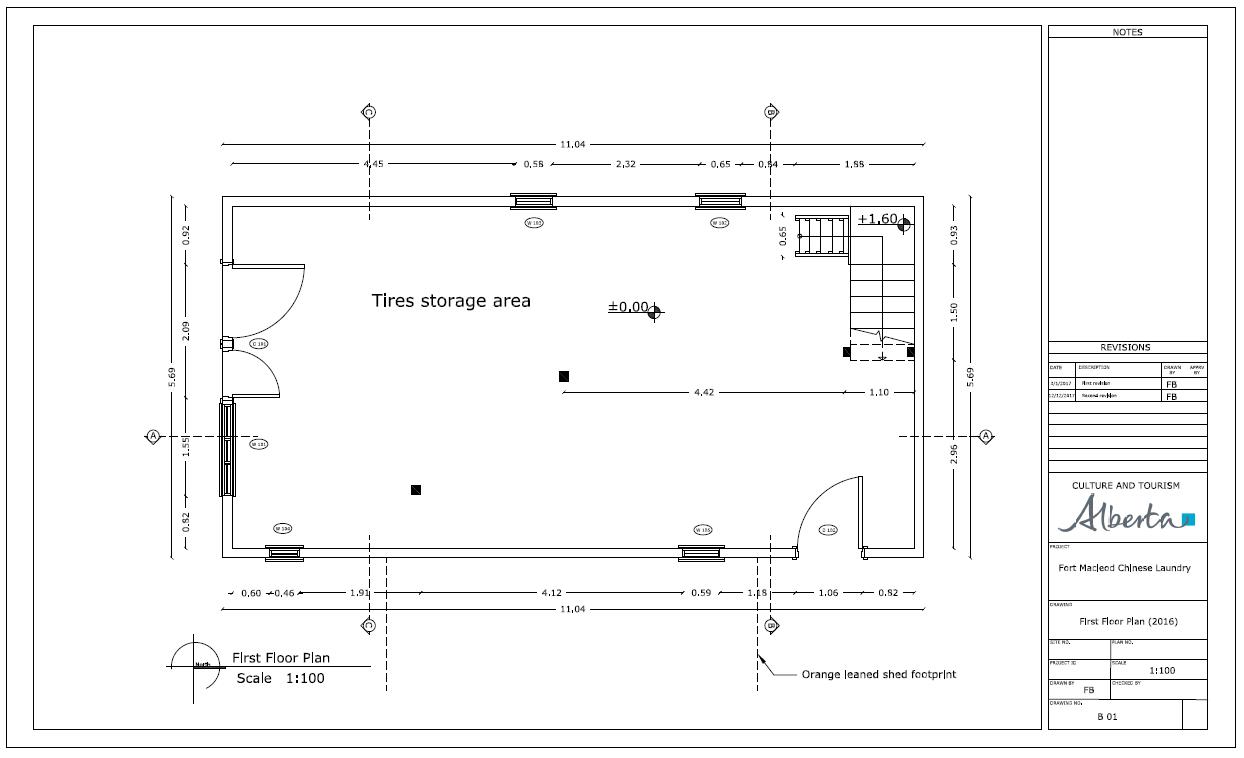 Digitally Capturing the Quon Sang Lung Laundry
A multi-sensor approach involving both UAV photogrammetry and terrestrial laser scanning (TLS) was used to capture the interior and exterior of the laundry building. Drone-based photogrammetry was used to capture the building in its current urban context, capturing its location relative to other nearby buildings. A DJI Phantom 4 drone was flown in a double grid pattern over the laundry shop at an elevation of 40 meters at a camera angle of 70 degrees, resulting in an overlap of 90%. The resulting images were processed using Pix4D mapper software and used to create a point cloud, mesh and final 3D model (Figure 5 and 6). Photogrammetry is an excellent way of creating visual models of artifacts and buildings. However, the accuracy and precision of these models is often too coarse to allow for the calculation of volumetric and linear measurements, which is necessary for the construction of the 2D architectural plans. Terrestrial laser scanners (TLS) can provide point clouds with millimeter and submillimeter accuracy.
Two laser scanners were used to record the building – a Z+F 5010X scanner, and a Faro Focus 3D scanner. A series of paddle, spherical, and paper targets were placed at various points around the structure, and well as within the main and top floors of the building (Figure 7 and 8). To ensure accurate point cloud registration, a minimum of three targets need to be common to two or more overlapping scans. Targets are not always necessary with the auto-registration algorithms found in programs such as Leica Cyclone, but they increase accuracy. Since one of the goals of the project was to create a set of architectural plans, the use of targets for registering the data was an essential part of the workflow.
A total of 16 high resolution scans of the exterior and interior of the building were completed over a period of 3 hours, during light snow and a temperature that hovered around 0 Celsius. Detailed recording of the structure using hand measuring tapes, as is the common practice for recording historic structures, would have taken much longer. Furthermore, the resulting data would have likely been prone to human errors in measurements.
One of the advantages of the Z+F 5010X scanner is that it allows the operator to register the point cloud data in real time, as the scanning is performed. This is advantageous because it allows the operator to identify if there are any gaps in the data – in other words, the operator knows immediately if a critical area or feature of the building has been missed by the scanner. It also speeds post-processing of the data upon returning to the office. Fine registration of the scans was completed using Leica Cyclone and Z+F Laser Control software.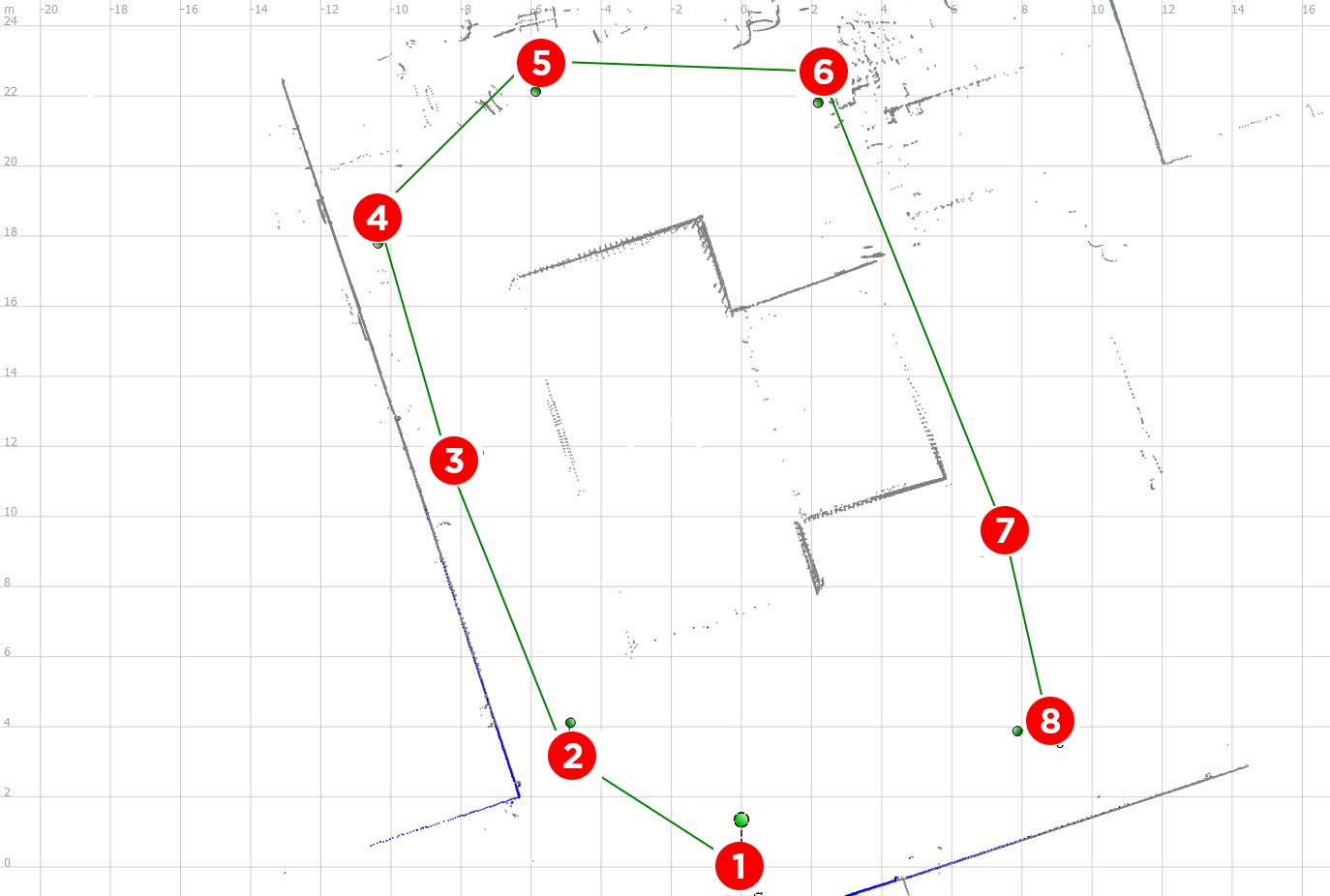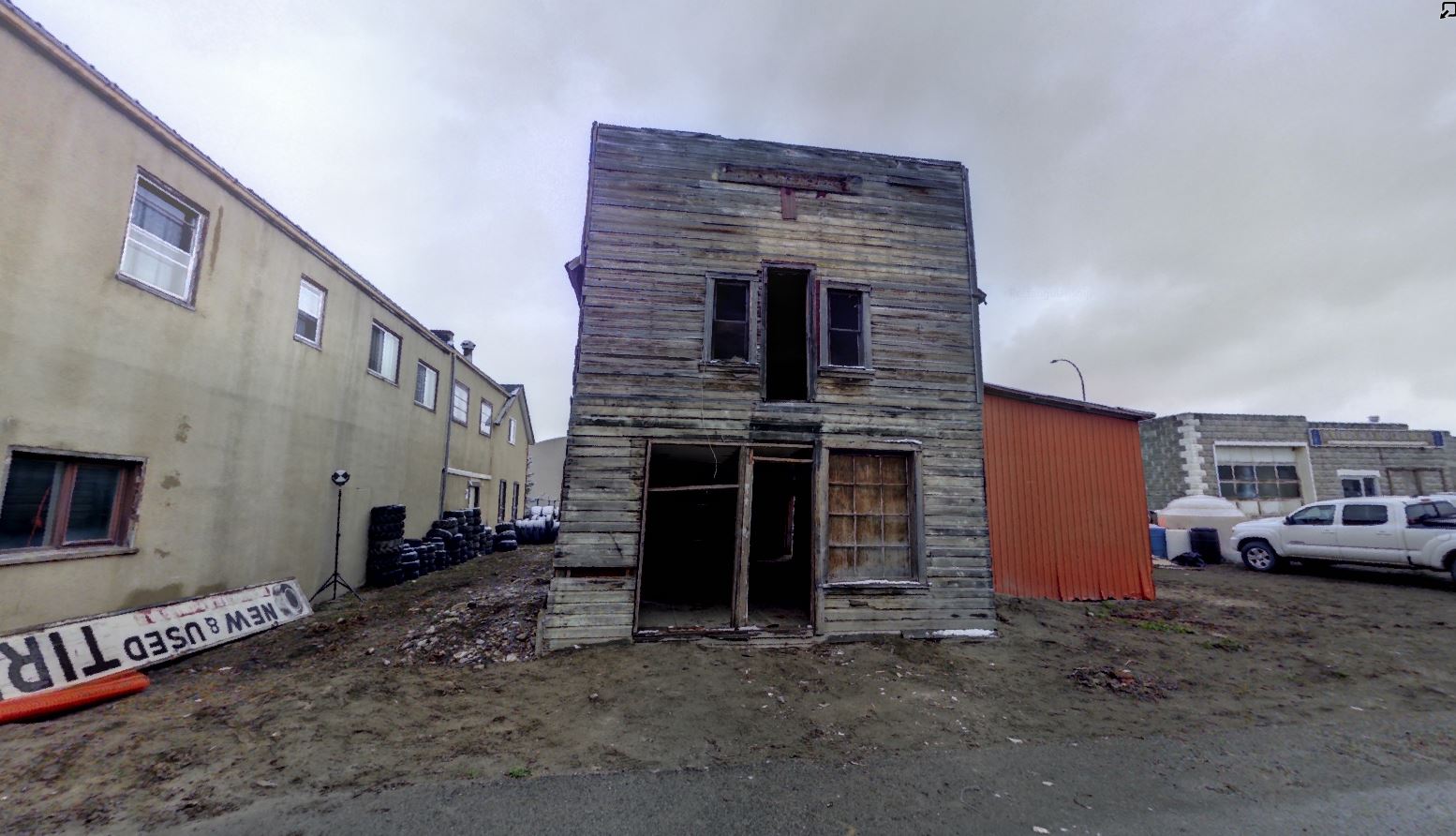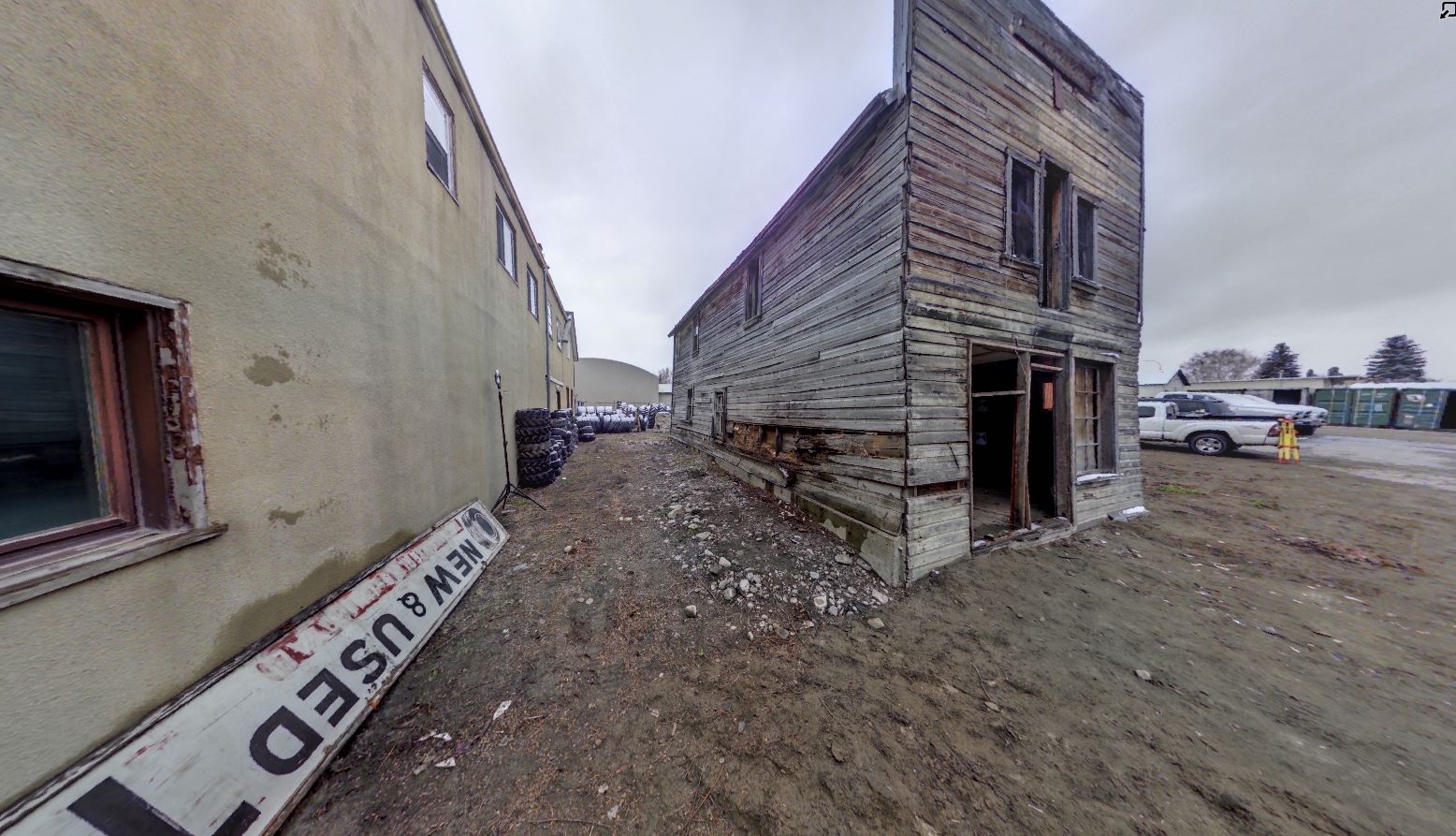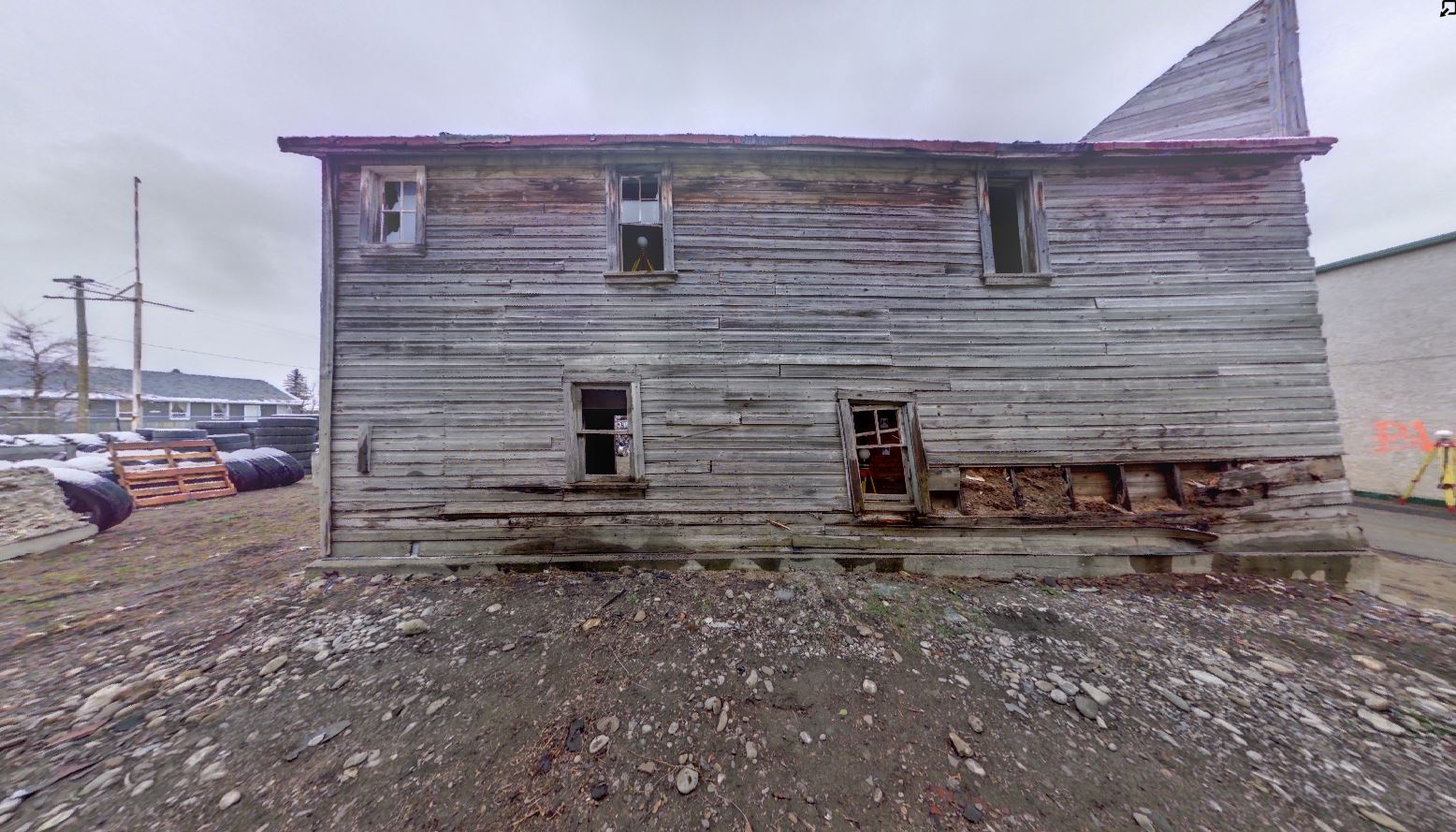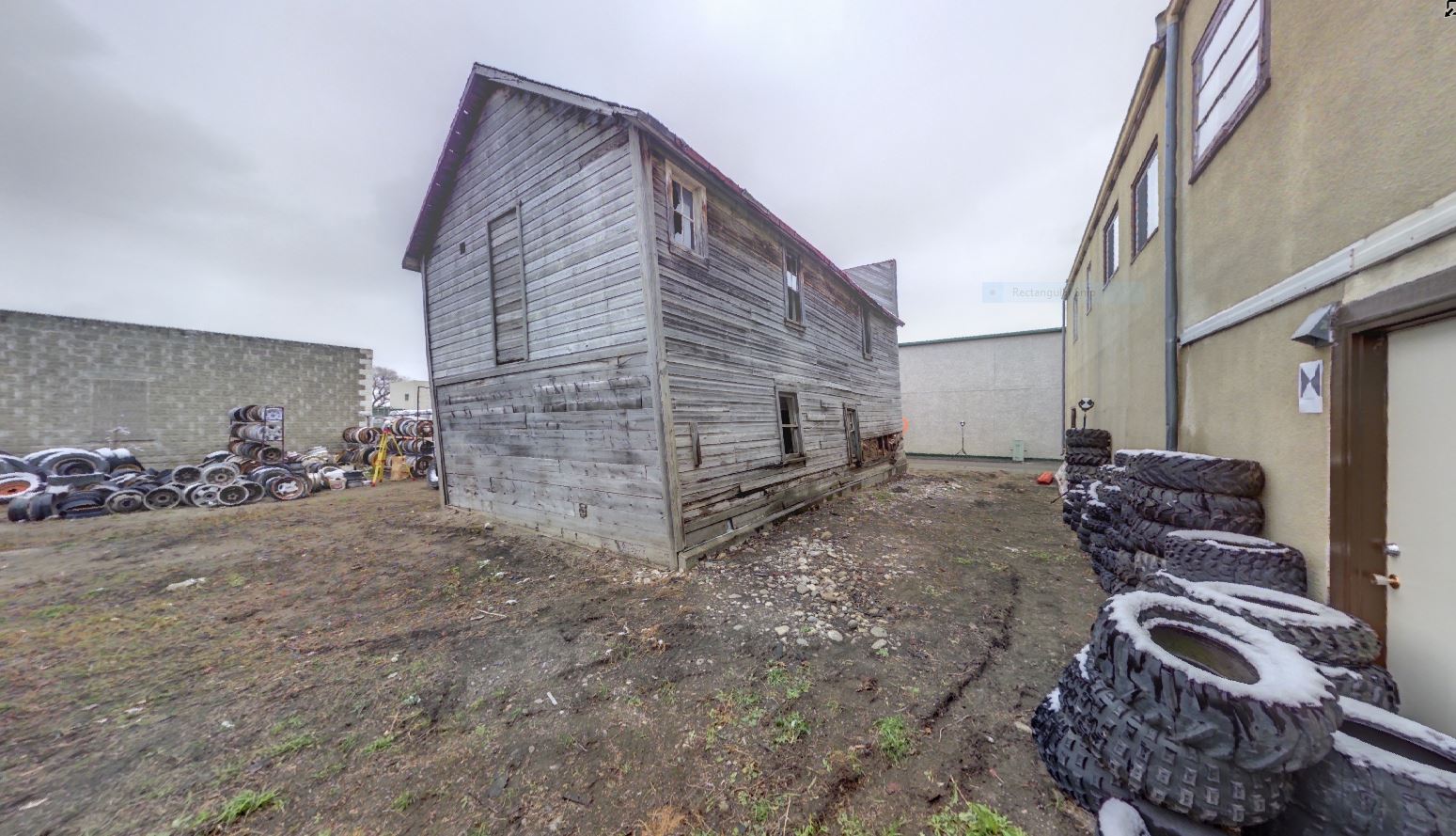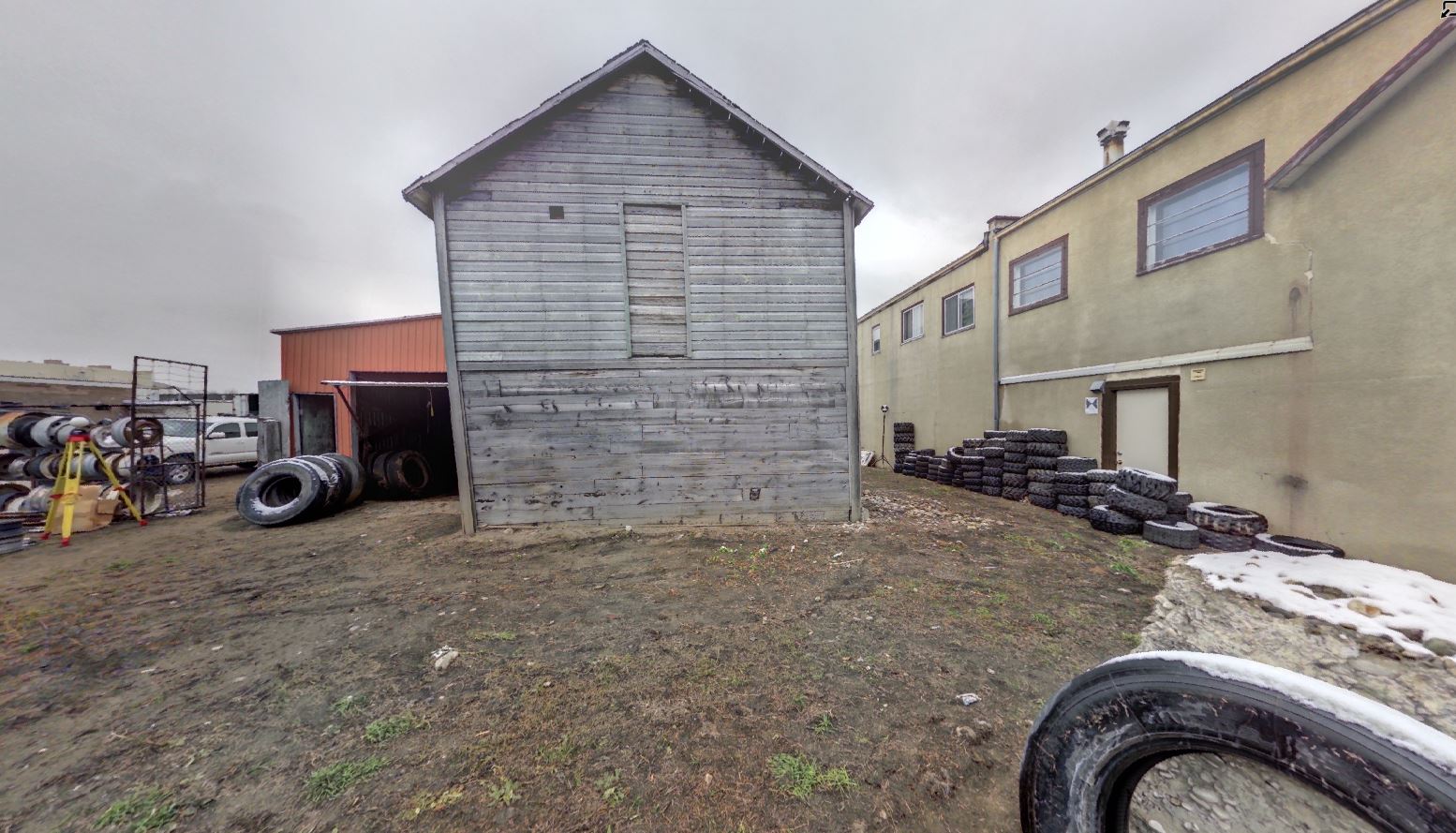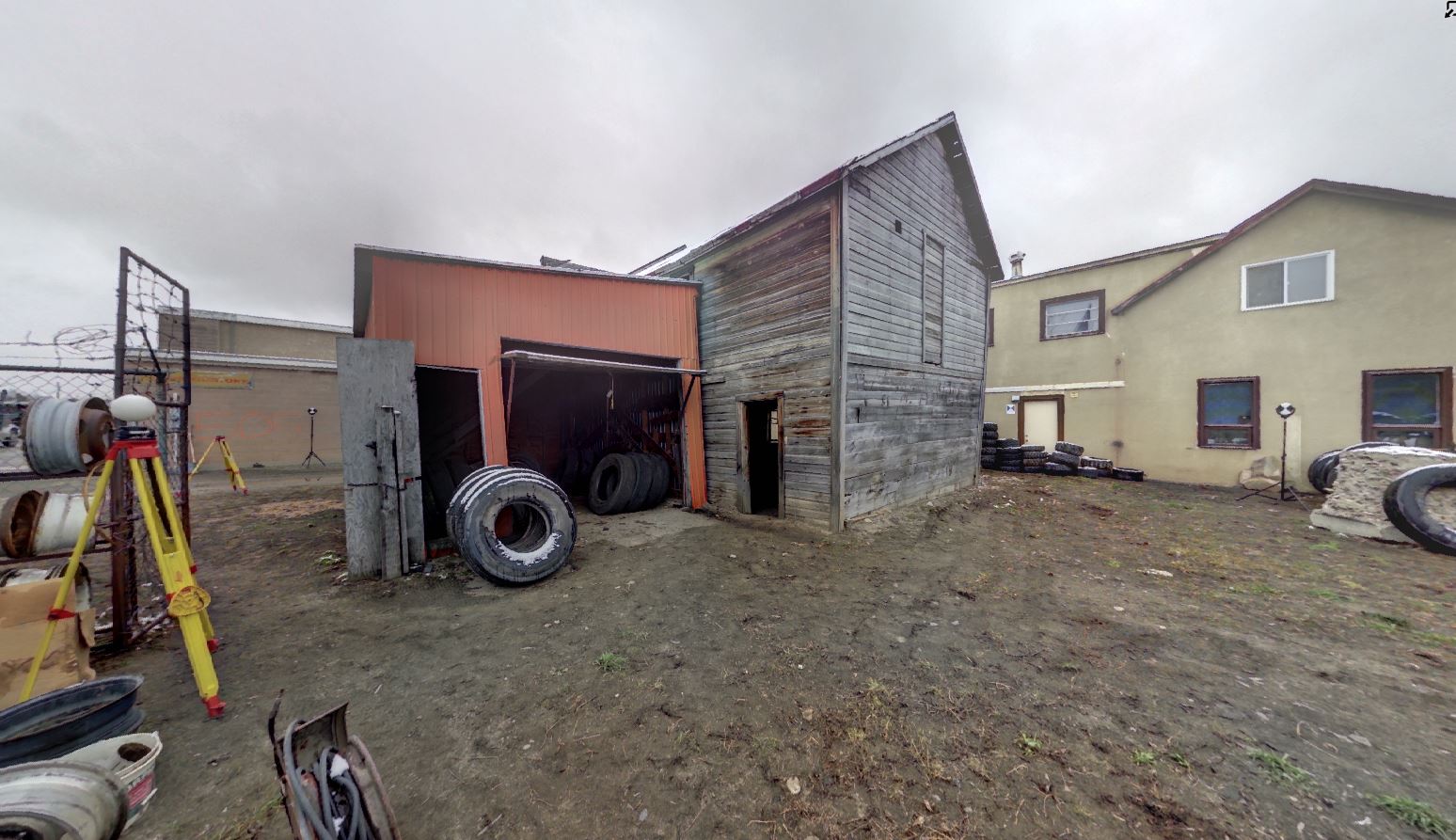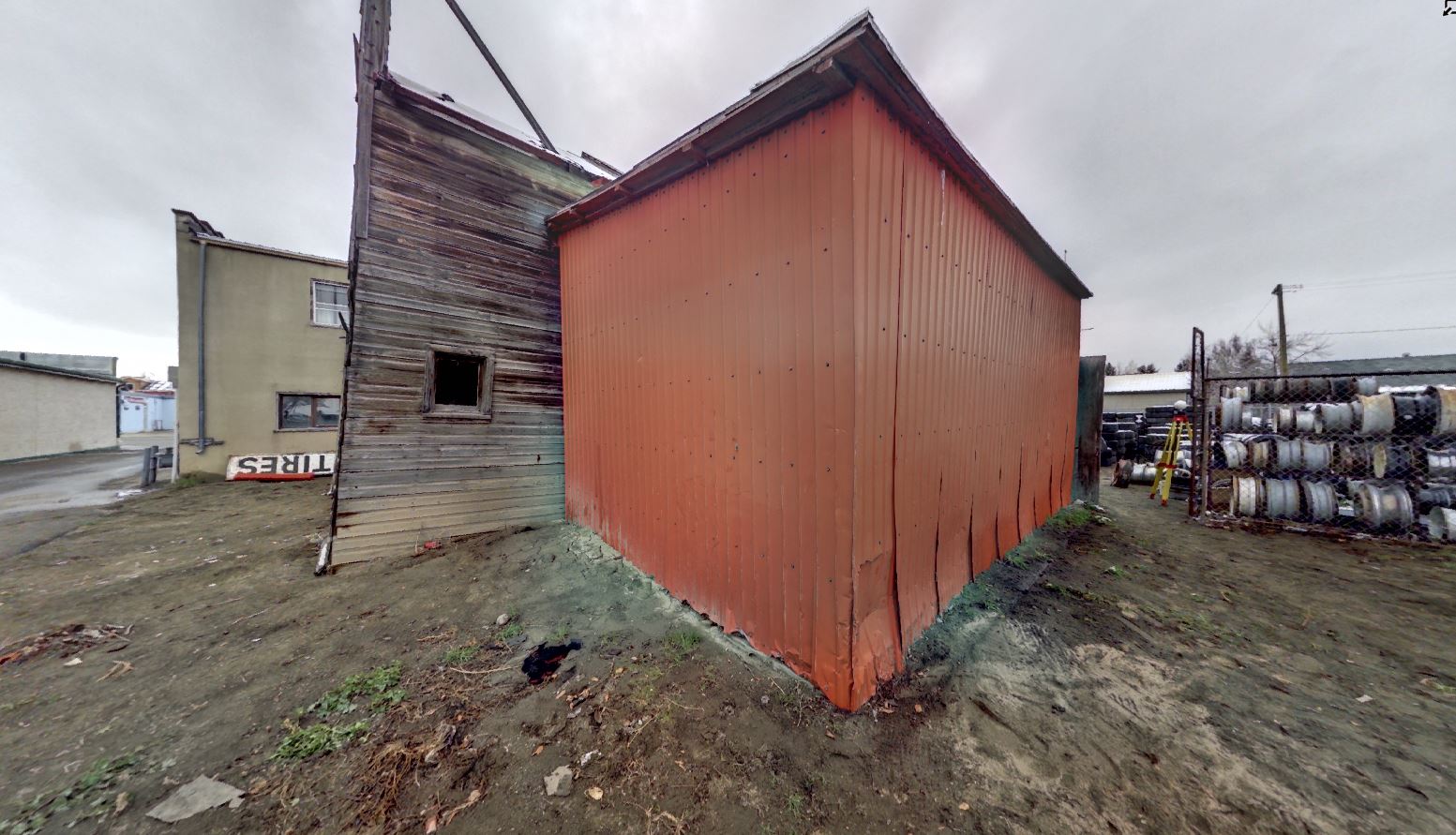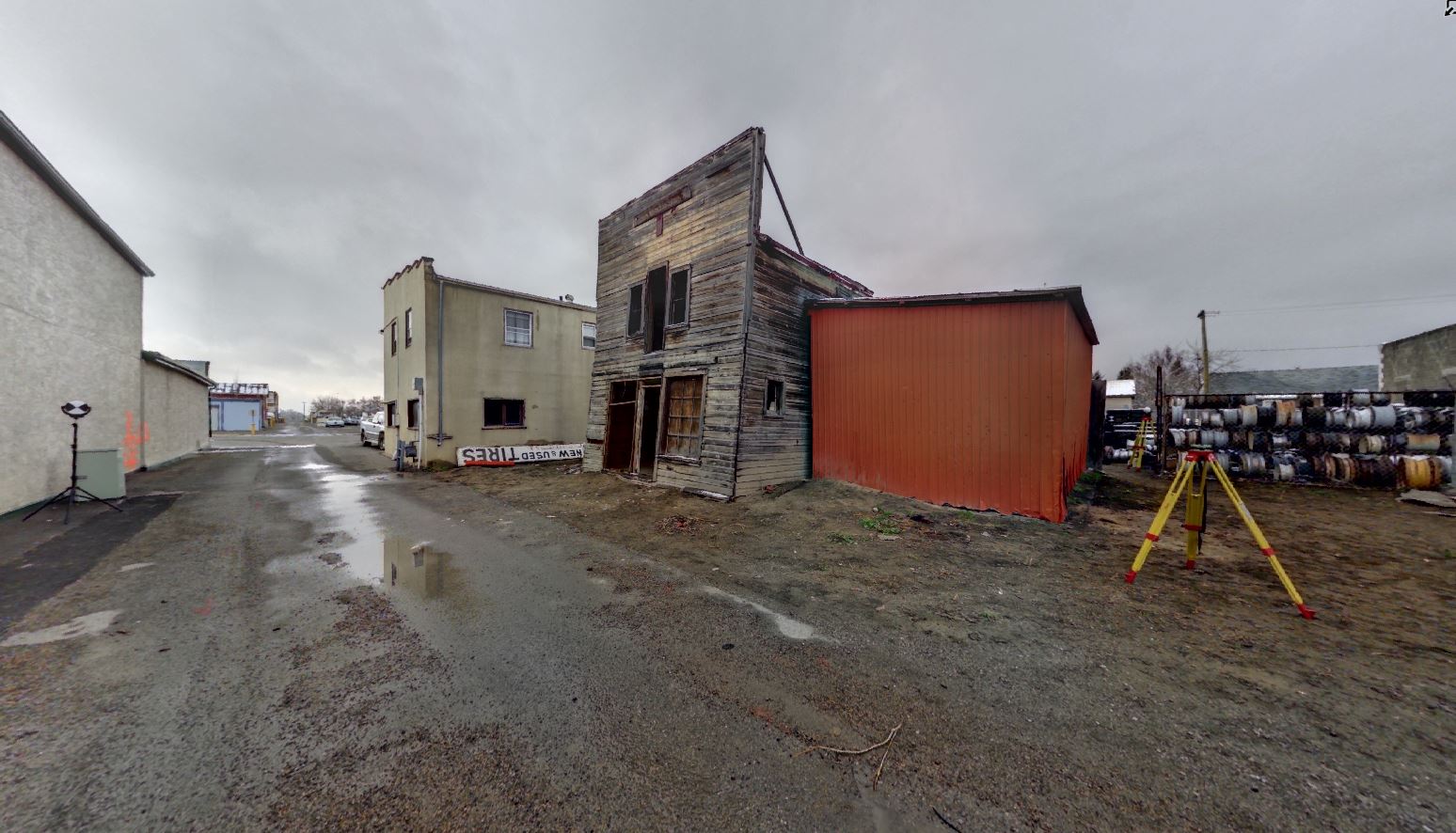 Open Access Scanning Data
The raw data files for this project are available for download from the archive repository. Scans are .las file format. Please download the metadata template to access metadata associated with each file. All data is published under the Attribution-Non-Commercial Creatives Common License CC BY-NC 4.0 and we would ask that you acknowledge this repository in any research that results from the use of these data sets. The data can be viewed and manipulated in CloudCompare an opensource software.