Kootenai Brown Cabin
Relocated to Pincher Creek's Kootenai Brown Pioneer Village from Waterton Lakes National Park in 1971, this cabin was John George "Kootenai" Brown's second homestead and features some of his original furnishings. Brown was a local frontiersman who settled in the Waterton Lakes area in 1877 and spearheaded the establishment and conservation of Waterton Lakes National Park. Brown's nickname, "Kootenai", came from his association in the 1880s with the First Nations tribe of the same name.
Region:
Southwest Alberta
Field Documentation:
July 26, 2023
Field Documentation Type:
Terrestrial LiDAR
---
---
Threat Level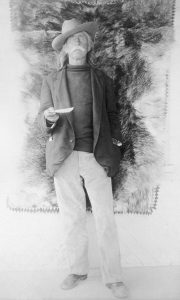 Kootenai Brown
"Kootenai" Brown is well-known in Canadian history for his work in conservation, relationships with First Nations, and for being the first European to see and experience what is now known as Waterton Lakes National Park [1]. Born 1839 as John George Brown in Ennistymon Ireland, Brown joined the British Army when he was 18 and served briefly in India [1, 2]. He left the army in 1861 to set out for the Cariboo goldfield in British Columbia. When the gold rush in Vancouver proved to be an unsuccessful venture, Brown made his way east into the prairie provinces where he passed through the Kootenai Lakes, what would eventually become known as Waterton Lakes National Park, and said he was resolved to one day live there [1, 2].
On September 26, 1868, Brown married Olive Lyonnais in Pembina North Dakoda [2]. In 1874 Brown left his employ as a mail courier in the United States Army to join Olive's Métis community, and together the couple had three children: two daughters and a son [2]. While living in Montana, Brown killed a man in a quarrel in April 1877. However, the jury found insufficient evidence to charge him with murder. When Brown was released in fall of that year, he made good on his previous resolution and moved his wife and family to the Kootenai Area. Brown's son was placed in the Roman Catholic mission school at St. Albert, and it is unclear what became of their daughters [2]. Olive passed away sometime between 1883 and 1885. In the years that followed, Brown was remarried to Cheepaythaquakasoon, a Cree woman who came to live with Brown and is said to have been an excellent shot,  keeping Brown company on his travels and hunting trips [1, 2].
Known by the Indigenous peoples of the area as Insupi, meaning long hair, Brown spent the rest of his life living and working in Waterton. Brown argued against the name "Waterton" for the Park, feeling strongly that  the competing name "Kootenai" better captured  the local significance of the lakes to the Indigenous communities who traditionally occupied the area [3]. Brown first served Waterton  as a Forest Ranger and later as the first Park Warden [1]. In july of 1916, at the age of 51, Brown passed away and was laid to rest along the shore of Knight's Lake, with a large cairn marking the spot of his internment [1].
For more details on Kootenai's life, please see Kootenai Brown Popular Grove Tree.
Kootenai Brown's Cabins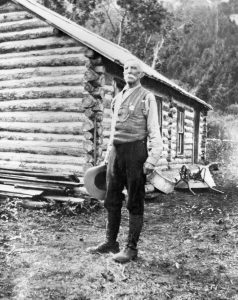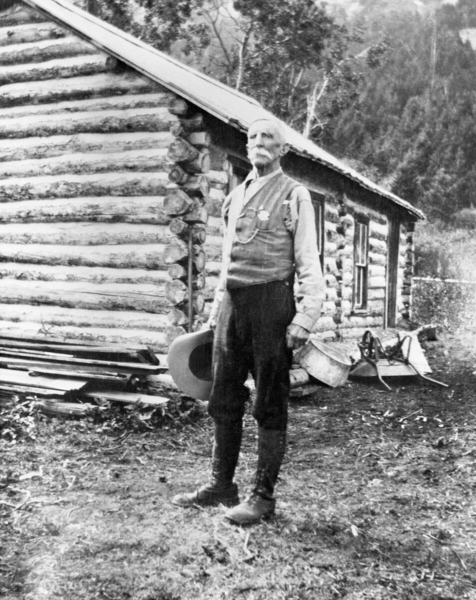 In his years at Waterton Lakes, 'Kootenai' Brown appears to have lived in at least four different locations. Upon his arrival from Montana in 1877 he moved his family into a pre-existing cabin  belonging to Fred Kanouse, which served as both dwelling and trading establishment located on the east side of Lower Waterton Lake, near Maskinonge [3]. After several years, Brown took over what is known as the Kanouse-Brown Trading post [3, 4].
Due to his position in the army and services to the Rocky Mountain Rangers, Brown was eligible to receive 320 acres or an $80.00 script. Brown accepted the land, and while he never lived on the parcel he was given, he sold his half section in 1890 and used the money to buy a new property near the junction of Pass Creek and the Lower Waterton lake [3]. The  land included a hay meadow and grazing for Brown's houses as well as enough timber to construct a new cabin, which is sometimes referred to as Brown's first homestead [3]. This land today is located just north of the Park's kiosks.
It was during the oil craze around Waterton thatBrown became known to most of the speculators. In 1908 J.B. Ferguson of the Western Oil and Coal Company convinced Brown to sell his quarter section for $2,000 [3, 5]. After this, Brown took up a new homestead outside of the park boundaries, east of Maskinonge Lake. This homestead is the Kootenai Brown Cabin which was subsequently relocated to Pincher Creek in 1970 [3]. Brown lived in this cabin until 1912, when he decided he wanted to live more centrally in the park where he worked. Brown purchased a frame house located near Lake Linnet at the foot of Mount Crandell. This building was later refurbished by Parks Canada and used for administration [3].
Heritage Relocation
Kootenai Brown's second homestead is a three-room log cabin which was donated to the Pincher Creek Historical society by Rancher J. Allerd who was the then owner of the cabin [1,6]. The cabin was set to be moved to Pincher Creek by Calgary company Mitchell Movers in August 1970 [1, 6]. The movers working for the company camped on location in a bus for a week while they prepped the cabin for moving and lifted it onto the trailer. In Pincher Creek, a concrete foundation was poured for the cabin in the grounds designated for a new open-air museum along Wentworth Avenue [1,6].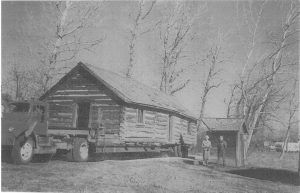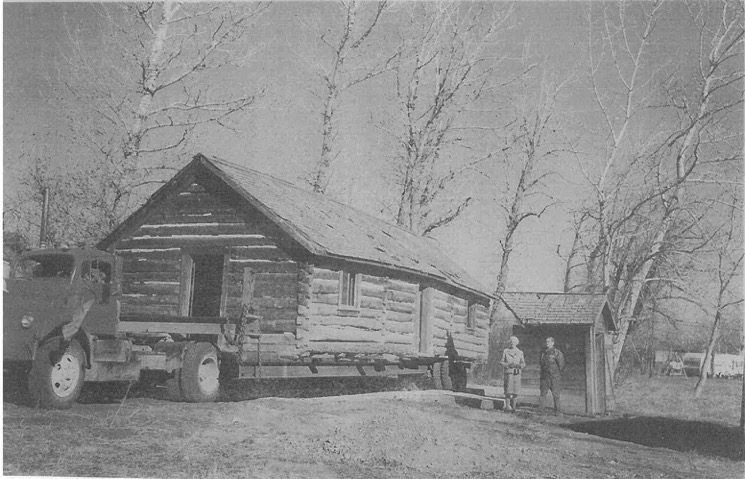 The cabin was moved about 50km across two creeks and up Highway 6 to the Pincher Creek Museum. The cabin was the first building to become part of the Kootenai Brown Pioneer Village, which is named after the cabin and its famous owner [7]. Today the museum has 31 buildings, with over 30,000 artifacts. It is a self-guided open-air museum that hosts events all year round [7]. The Kootenai Brown cabin is located  at the northwest bend of the park along the main boardwalk. It is furnished with a combination of some of its original furniture, such as the wrought iron bed and kitchen table, and period-appropriate artifacts sourced from other locations [7].
In the years since it was moved, the original location of the cabin was lost. To mark the centennial of the passing of Kootenai Brown in 2016, Edwin Knox, a former Parks Canada Warden and Cultural Heritage Manager, started the search for the location of this fifth cabin [4]. Talking to locals and using archival records and photographs, Knox narrowed down a possible location. Visiting the grassy knoll, Knox was able to determine the location by lining the mountains in the background of photographs, and found remnants of the cabin's original foundation, as well as many culturally modified trees (CMTs) in the area.
In May 2022, the Digital Heritage Research lab at the University of Calgary was asked to digitally capture the meadow as well as the surrounding CMTs. After, our team reached out to the Kootenai Brown Pioneer Village to plan a documentation of the cabin with the intention of digitally reconnecting the cabin with its original surroundings. This is a novel application of laser scanning, and we hope you can read about the results soon. Follow us on social media @capture2preserv for announcements of that progress!
Notes
This site is located on Treaty 7 Territory of Southern Alberta, which is the traditional and ancestral territory of the Blackfoot Confederacy: Kainai, Piikani and Siksika as well as the Tsuu T'ina Nation and Stoney Nakoda First Nation. This territory is home to the Métis Nation of Alberta, Region 3 within the historical Northwest Métis Homeland. We acknowledge the many First Nations, Métis and Inuit who have lived in and cared for these lands for generations. We are grateful for the traditional Knowledge Keepers and Elders who are still with us today and those who have gone before us. We make this acknowledgement as an act of reconciliation and gratitude to those whose territory we reside on or are visiting.
[1] Pincher Creek Historical Society. 1970. "Historical Society Prepares to Move in Kootenai Brown Cabin" The Pincher Creek Echo. Vol 71, No 1. Thursday, 13 August, pg. 1.
[2] William Rodney, 2003, "BROWN, JOHN GEORGE, Kootenai Brown," in Dictionary of Canadian Biography, vol. 14, University of Toronto/Université Laval 3,  2022. Electronic document, http://www.biographi.ca/en/bio/brown_john_george_14E.html , accessed September 3, 2023.
[3] Macdonald, Garham, 1992. Where the Mountains Meet the Prairies: A History of Waterton Lakes National Park. Canadian Heritage Parks Canada. Electronic document, http://parkscanadahistory.com/series/mf/524.pdf, accessed September 3, 2023.
[4] Knox, Edwin, 2021, Historical Background of the Kootenai Brown "Poplar Grove" Cabin. See, https://alberta.preserve.ucalgary.ca/sites/kootenai-brown-poplar-grove-cabin-site/ .
[5] Getty, Ian Allison Ludlow. 1972. The History of Waterton Lakes National Park, 1800-1937: A Research Paper Prepared for the National and Historic Parks Branch, University of Calgary. Electronic document, http://parkscanadahistory.com/publications/waterton/history-1972.pdf, accessed September 5, 2023.
[6] Pincher Creek Historical Society. 1970. "Kootenai Brown's Log Cabin on Location." The Pincher Creek Echo Vol 71, No 13. Thursday, 05 November, pg. 1.
[7] Kootenai Brown Pioneer Village, 2023. About Us. Electronic document, https://www.kootenaibrown.ca/history , accessed September 5, 2023.
This gallery contains modern and historic images related Kootenai Brown and his cabins. The photos in the gallery have been provided by archival instutions and the Capture2Preserv project.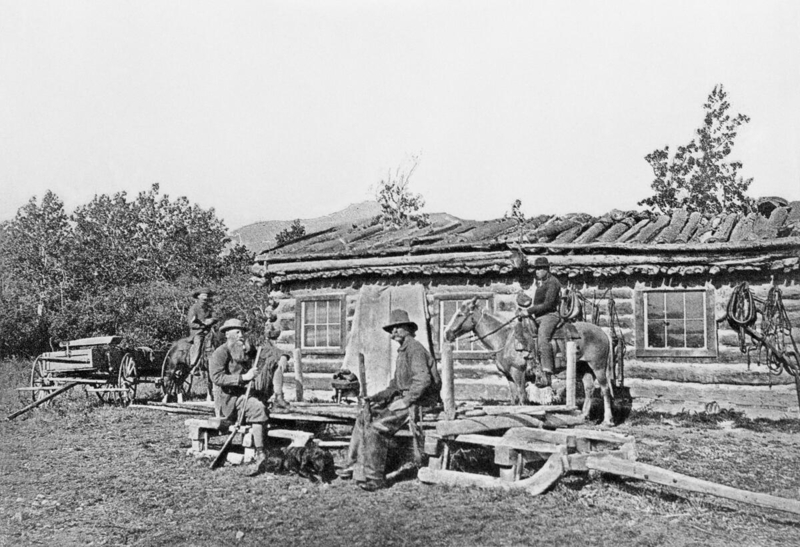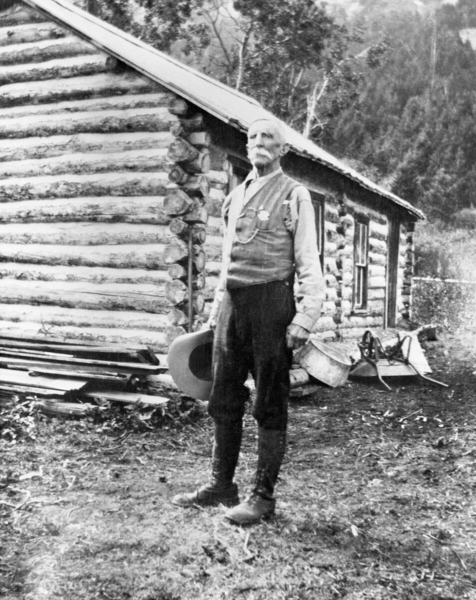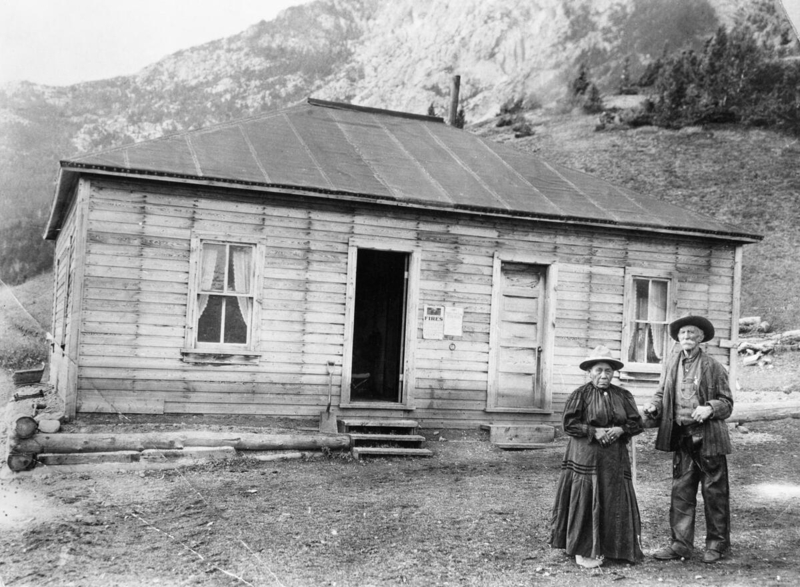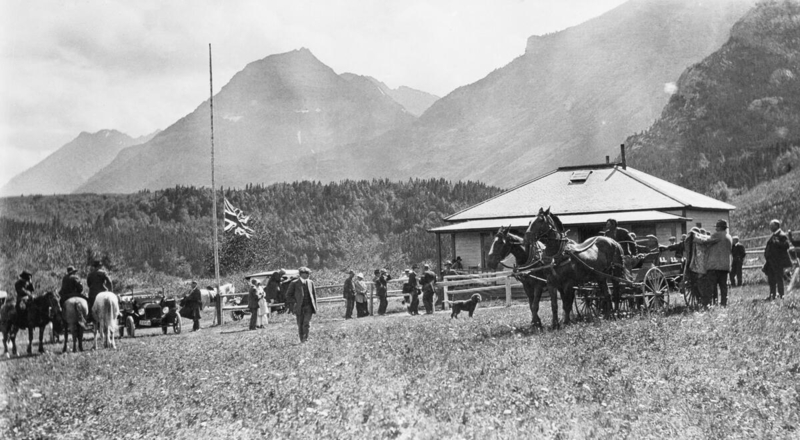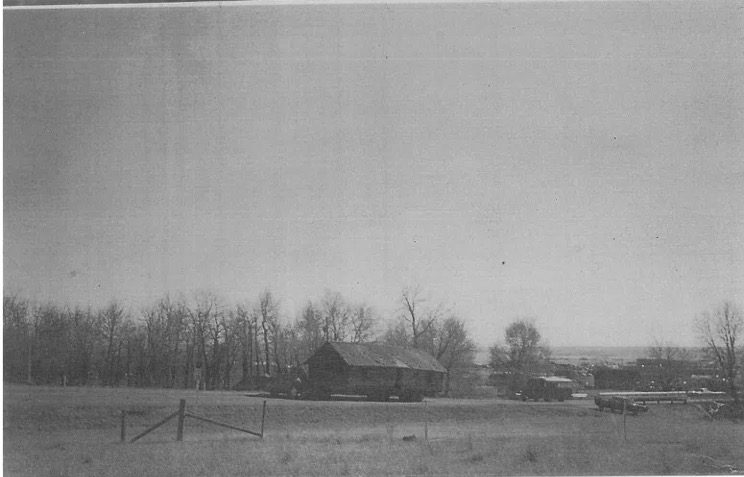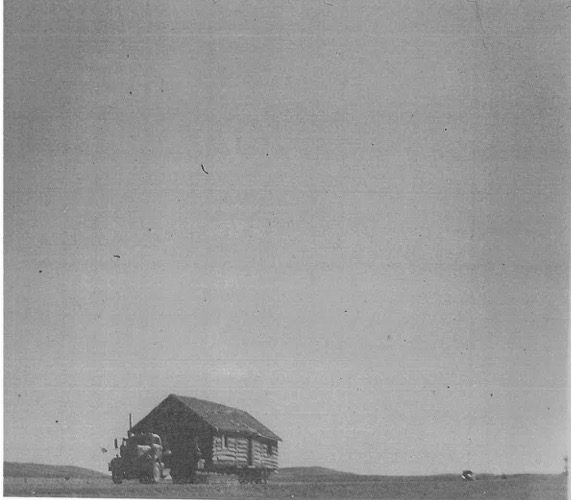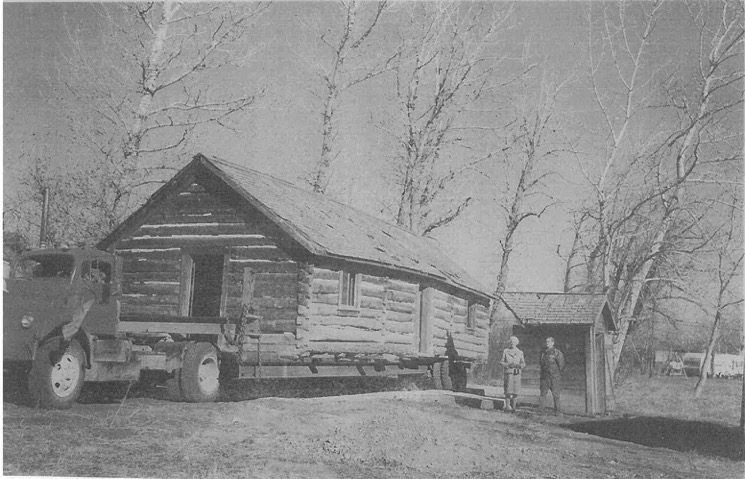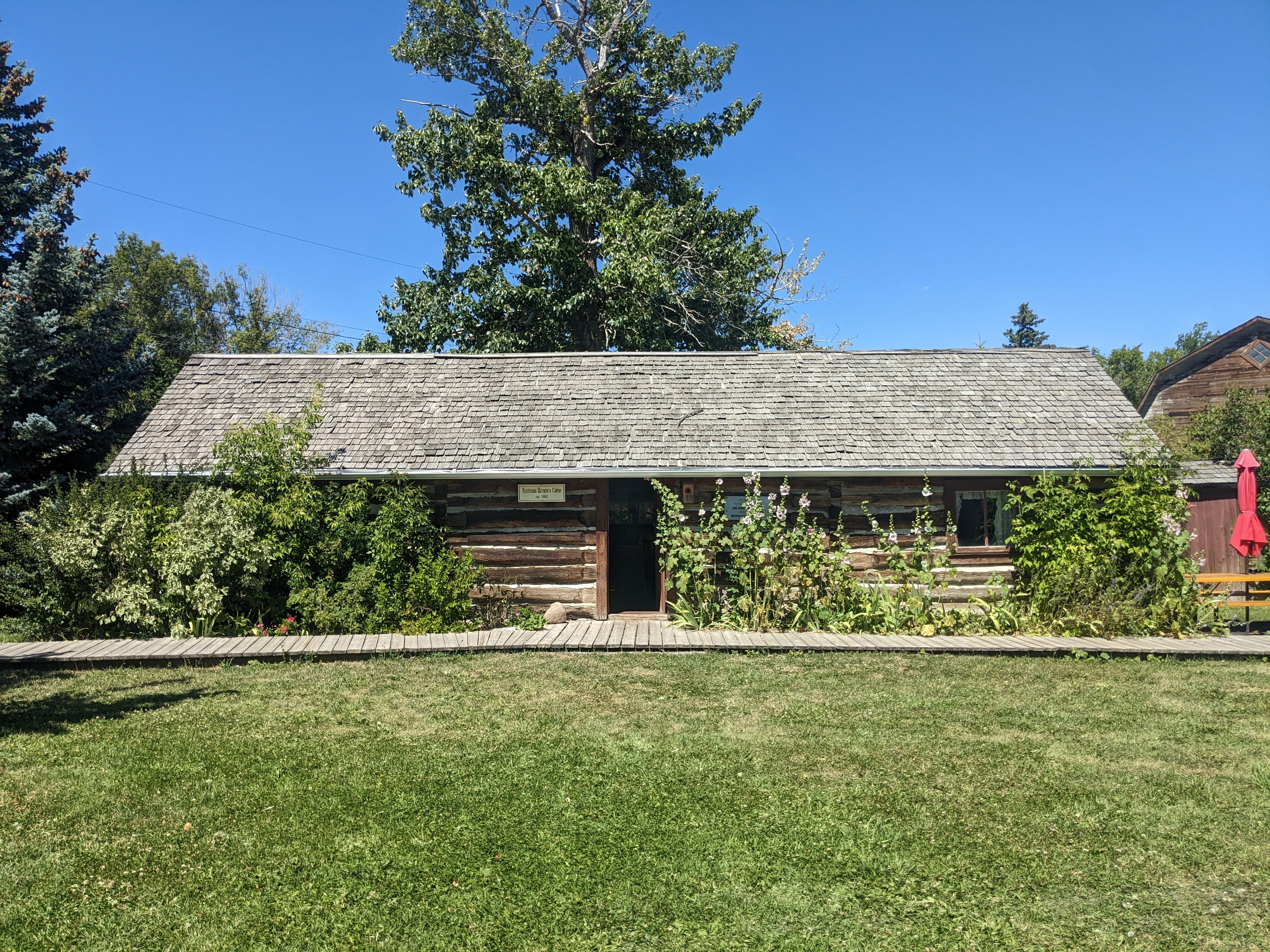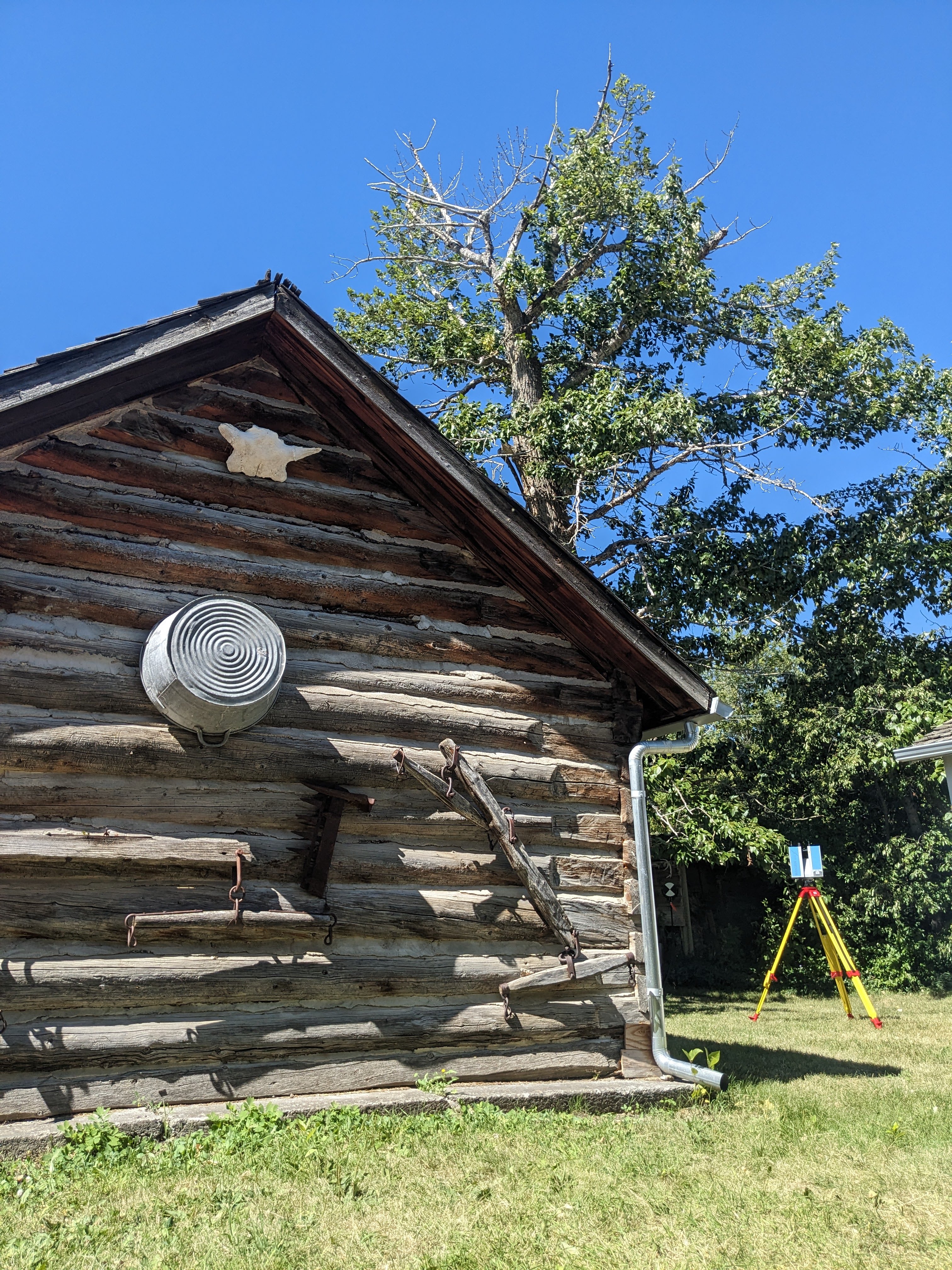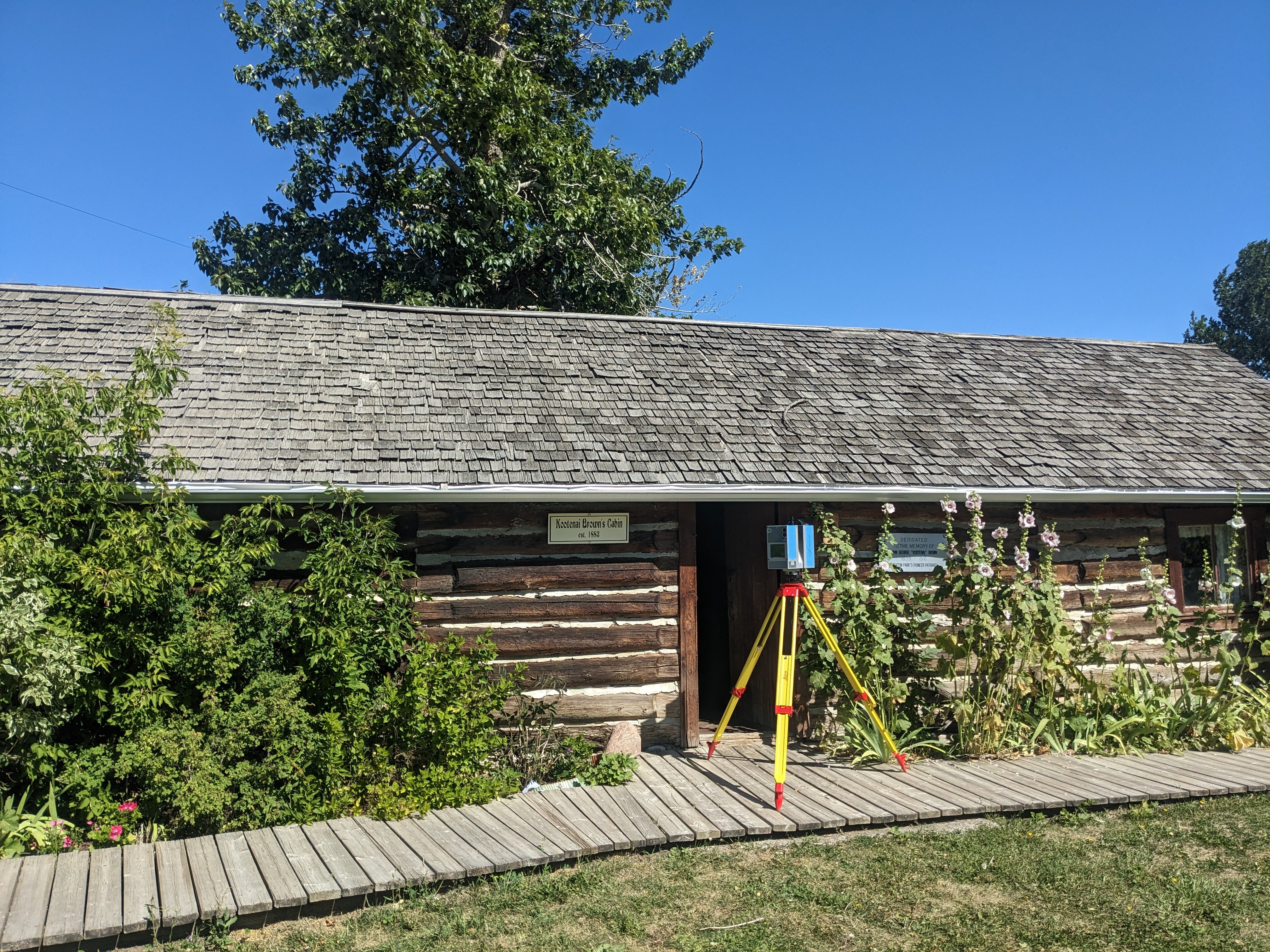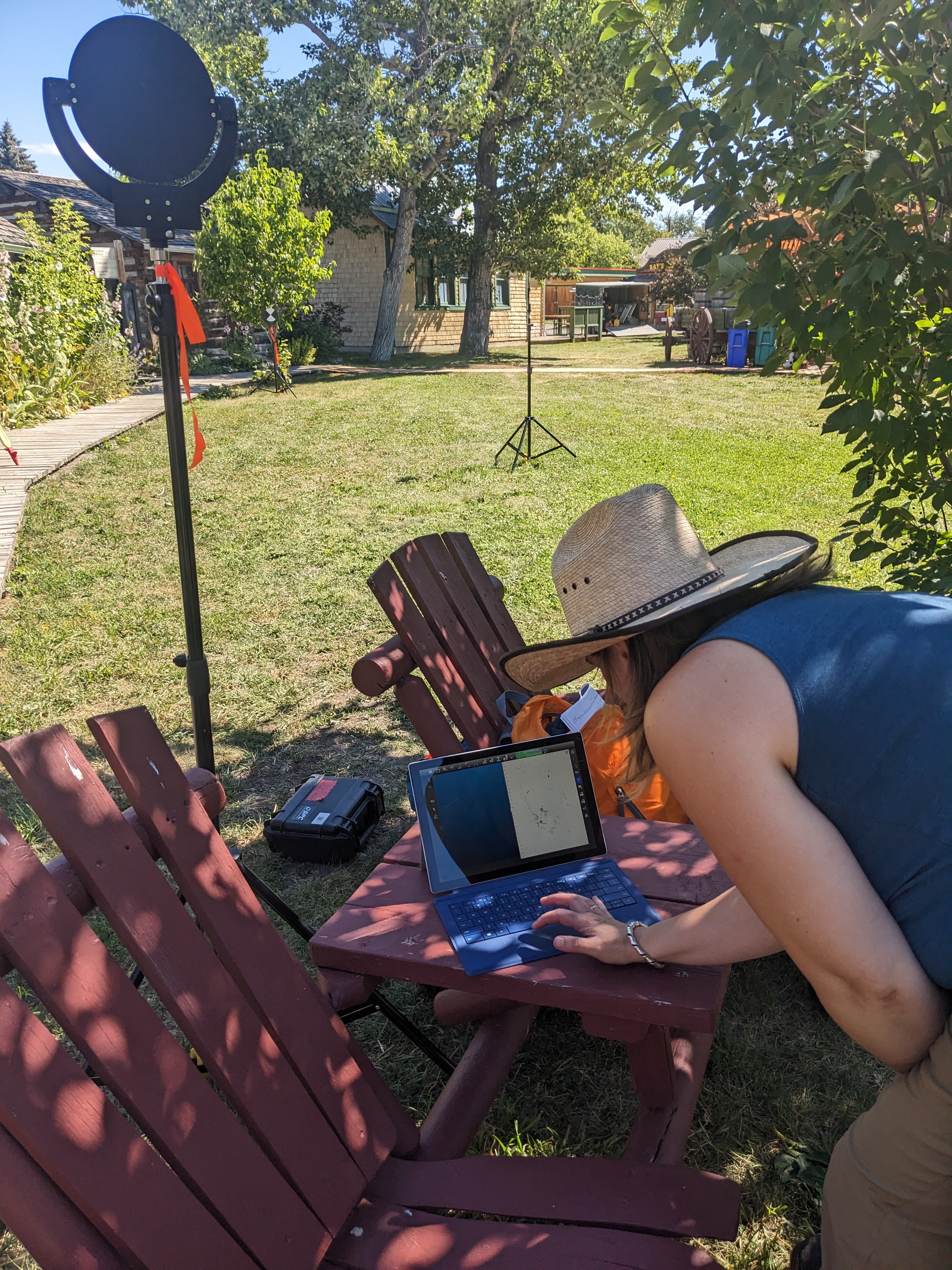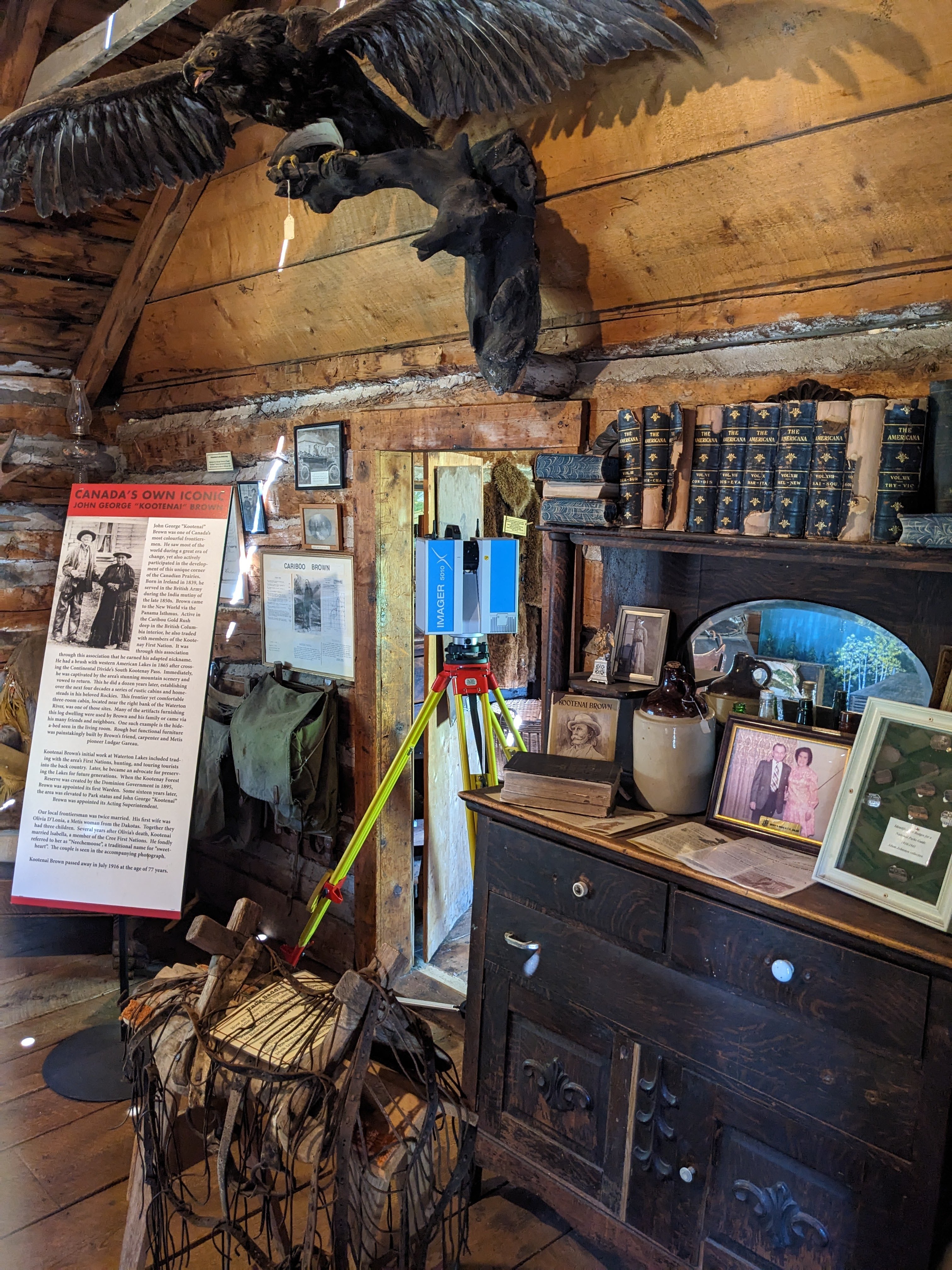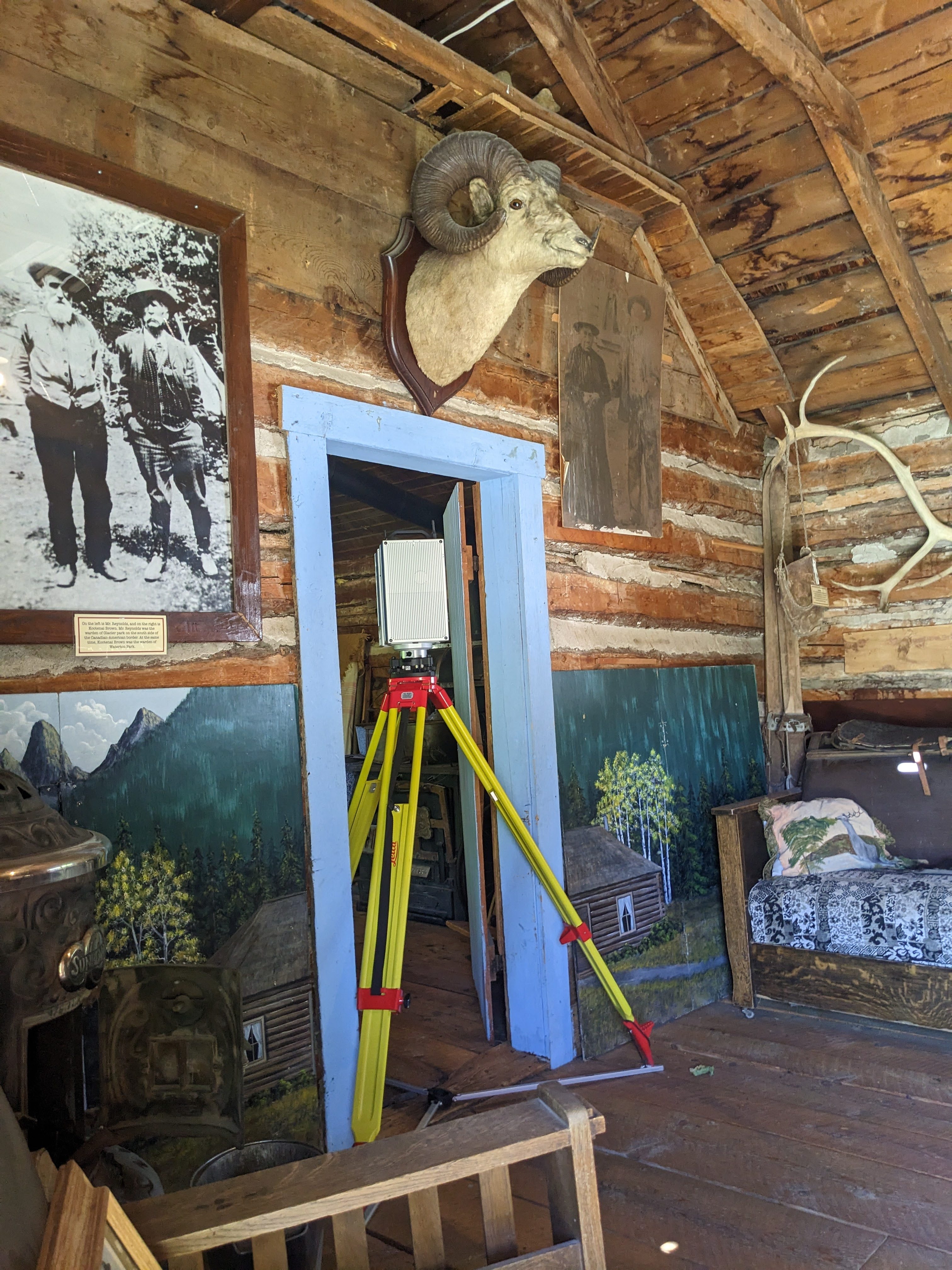 The Digitally Preserving Alberta's Diverse Cultural Heritage approached the Kootenai Brown Pioneer Village to document Kootenai Brown's Cabin after digitally capturing its original location in Waterton Lakes National Park. The cabin was recorded with the Z+F 5010X scanner. There were 16 scanning locations that encompassed the building. The scans were registered using Z+F Laser Control software and then exported into AutoDesk ReCap for further processing. The resulting point cloud was used to create a detailed 3D model of the building.